Description
Standard Media and File Formats
Work faster by eliminating
expensive media and video transcodes!
URSA Broadcast is the first professional broadcast camera designed to work with standard media cards and file formats that are compatible with virtually all broadcast systems and editing software. URSA Broadcast records onto inexpensive standard SD cards, UHS-II cards and CFast cards, and records 1080i or 2160p video into standard .mov files, with .mxf to be added in future updates. URSA Broadcast records using DNx145, DNx220X or ProRes so the files will work with your existing broadcast systems and workflows. You also get a B4 lens mount that works with your existing lenses, or you can swap it for optional EF, F and PL lens mounts so you can use standard photographic lenses. If you're building a complete broadcast camera chain, the optional URSA Viewfinder, URSA Studio Viewfinder and SMPTE fiber converters feature familiar controls and design, so they operate exactly as experienced camera operators expect. URSA Broadcast helps you get the most value out of your investment in cameras, lenses and accessories, which means you'll save time and money, so the camera virtually pays for itself!
Work in HD or Ultra HD
Incredible 4K imagesensor for wide 
dynamicrange

 and wide depth of field

URSA Broadcast features an incredible 4K image sensor and a new extended video mode with better dynamic range and color fidelity. The image sensor is designed for both HD and Ultra HD so you get amazing texture and detail, accurate skin tones, vibrant color and high dynamic range video, all without the need for post production. That means you can shoot, edit and get stories on air fast! The high resolution sensor is a huge advantage, even when working in HD, because you get sub pixel image processing and superior anti-aliasing for super sharp images. URSA Broadcast is a future proof camera that's versatile enough to use on any HD or Ultra HD production!

URSA Broadcast features high quality neutral density (ND) filters that let you quickly reduce the amount of light entering the camera. The ¼, 1/16th and 1/64th stop filters have been specifically designed to match the image sensor and color science of URSA Broadcast, providing you with additional latitude and better colorimetry, even under harsh lighting conditions. This lets you use different combinations of aperture and shutter angle, in a wider range of situations. The IR filters have been designed to evenly filter both optical and IR wavelengths. This eliminates the IR contamination usually associated with most ND filters. The ND filters are true optical filters with a precision mechanism that quickly moves them into place when the ND filter dial is turned. The filter settings can be displayed as either a fraction, number, or stop reduction

URSA Broadcast features both dual CFast 2.0 recorders and dual SD/UHS-II card recorders so you can choose the media that works best for you. Both types of media are standard, non-proprietary, inexpensive and readily available at most computer and camera stores. You can record 10-bit broadcast quality DNxHD 145, DNxHD 220X or ProRes files with metadata, making URSA Broadcast compatible with virtually all editing software. That means URSA Broadcast is easy to integrate and fit in to your existing broadcast systems. You can even record lossless 12-bit Blackmagic RAW files for high quality programming and post production workflows. With dual slots for each media type, URSA Broadcast gives you redundant recorders and non stop recording! When the first card is full, recording automatically continues onto the next card so you can swap one card while recording continues on the other.
Super Tough and
Redundant Design
Extremely toughand lightweightmagnesium metal design
URSA Broadcast features a super strong, lightweight magnesium alloy body that's perfectly balanced and designed to be comfortable enough for all day use. Like traditional broadcast cameras, it features familiar externally mounted mechanical switches and controls that give you direct access to the most important camera settings. The controls are laid out logically, making them easy to remember and locate by feel, so you can adjust settings without having to look at the buttons or take the camera off your shoulder. You also get a 4" foldout touchscreen for monitoring, or controlling the camera via a revolutionary software interface that provides full redundancy for all of the external controls and camera functions. There are even redundant controls for the power switch! URSA Broadcast also includes full size standard connections for audio via XLR connectors, SDI via BNC connectors and broadcast power input via a standard 4 pin XLR 12V DC connector!
Status Display
See critical shooting 
information in bright daylight!
The status display is a high visibility LCD screen that's designed to be easily seen, even in bright light! The status display shows record timecode, locked timecode and reference timecode, along with the current shooting frame rate, shutter angle, aperture, white balance, gain and iris. It also features a battery indicator, card recording status and audio meters for monitoring levels. The screen's backlight can be turned on when you're shooting in dimly lit locations, and off when you're shooting outdoors and in bright light to increase contrast, making it easy to read under any condition!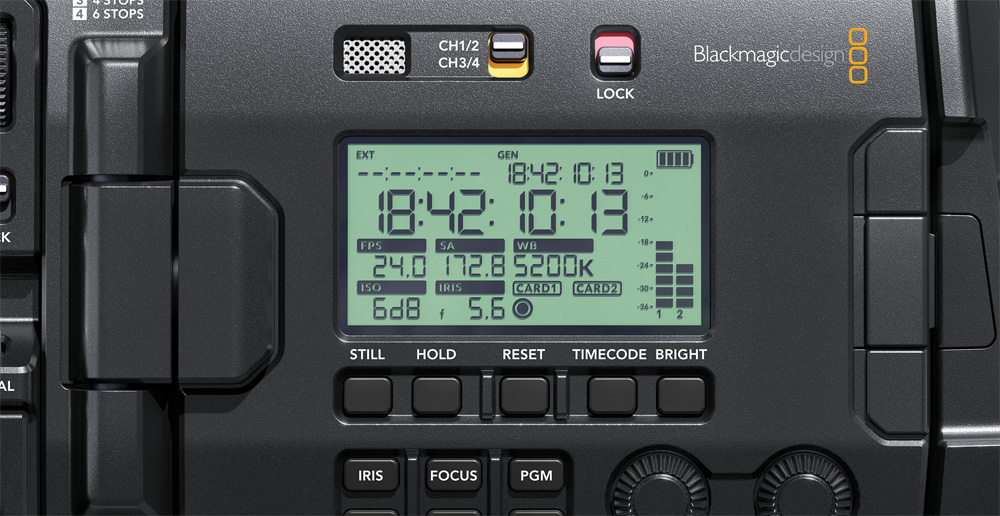 Broadcast Quality Audio
Built in broadcast quality 
sound recording
URSA Broadcast has a high quality microphone and professional audio recorder built in so you don't have to carry any extra sound equipment! The built in stereo microphone can be used for recording or you can connect professional microphones using the two XLR mic inputs. The XLR connections have 48V of switchable phantom power so you can plug in everything from shotgun to wireless clip on mics. With two microphone inputs, you can record a reporter in the field wearing a lapel or handheld mic, while also capturing ambient sounds from the second input. You can also record the same microphone to both channels using different levels to avoid clipping from unexpected loud noises in the field. URSA Broadcast also features external knobs for adjusting levels and onscreen meters so you can trim audio levels even when shoulder mounted.
Professional Studio Camera
Transform URSA Broadcast into 
the ultimate

 studio camera!
URSA Broadcast has built in remote control, color correction, talkback, tally and other features designed to make it the ultimate studio camera for live switched production. It can be remote controlled via SDI using the Blackmagic SDI Camera Control protocol. You can add the optional URSA Studio Viewfinder, Blackmagic Camera Fiber Converter and Studio Fiber Converter to get the exact same workflow and features of studio cameras costing hundreds of thousands of dollars. But best of all, when the live production is complete, you can quickly transform URSA Broadcast back into a normal shooting camera! URSA Broadcast lets you get the most out of your investment in cameras and lenses because you can use it every day out in the field or in the studio! That's the ultimate in flexibility because every URSA Broadcast camera you own can be used on live programs, allowing you to easily handle very large live jobs with lots of cameras, all without any extra equipment rental costs!